These stunning wild cat posters are great for learning (and admiring!) all the beautiful wild cat species in the family Felidae.
The common and scientific names of animals can change from time to time. Therefore the names and groupings printed on these posters may differ in a few instances to other publications that you come across. The current classification according to the IUCN can be downloaded from Wild Cat Lists.
The images are copyright the artists.
---
Wild Cats of the World - Print or Poster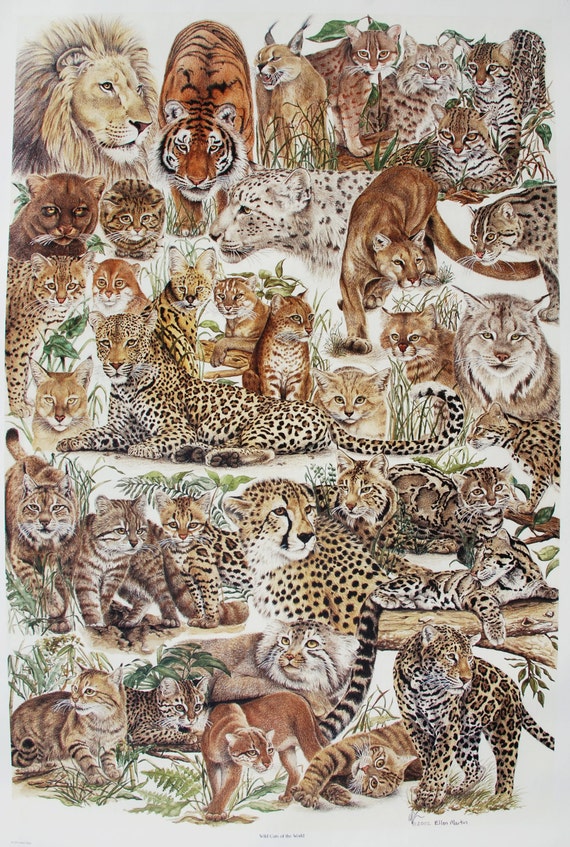 Artist Ellen Chester - Ohio, United States
The print (24"x36") comes with a key, that shows the cats and on the back has the common name, latin name and the part of the world where the cat is found in the wild. The print is on very high quality heavy paper.
The poster (26"x34") has small numbers next to the cats and a list on the right side with the common name, latin name, and the part of the world where the cat is found. It is printed on standard poster type paper.
View Wild Cats of the World Poster
---
Cats of the World Poster
Artist Jessie Jordan - Florida, United States
Jessie is a zoology illustrator and this poster groups all the wild cats by genus. Both the common and scientific names are printed underneath each cat.
The poster size is 16" by 24 inches on thick, durable, semi-glossy poster paper.
---
Wild Cats of India
Artist Ronan Chakravarty - Nagpur, India
Ronan is a cartoonist, illustrator and creator of Green Humour.
This design has illustrations of the 15 species of wild cats found in India (the highest for any country). It can be printed in various paper formats as well as on bags and clothing.